Interpreting and Translations
Can We Talk? Inc. has been providing interpreting and translation services in Creole, Spanish, French, and numerous other languages since 1987. Serving Palm Beach, Broward, Dade, Martin, St. Lucie, Glades, and Hendry counties, our services have benefited those both in the public and private sector.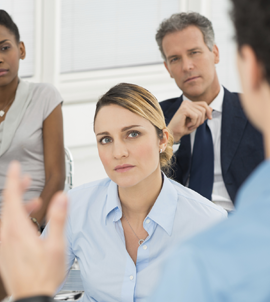 With more than 36 years of experience, Can We Talk? Inc. has gained the knowledge and expertise to handle all types of situations. Our skilled interpreters have been dispatched to handle a wide variety of subjects and circumstances, including but not limited to these:
Legal matters
Insurance statements
Medical examinations
Personnel policies and procedures
Education

Social service needs
Banking
Immigration
Real estate matters
Employee orientations
Interpreters
Our interpreters undergo a comprehensive training process, because being bilingual does not necessarily guarantee a skilled interpreter. Every potential interpreter is interviewed and participates in mock scenarios and role-playing situations to test their strengths and aptitiude. Through our hiring and training process, we have established a talented team of professionals that includes translators and interpreters who have legal and medical certifications.
Document Translation
When it comes to document translations, Can We Talk? Inc. uses an exhaustive process that includes a thorough and detailed review of each project. Documents are not just handled or reviewed by one set of eyes but by a team of translators. First, the primary translator does the initial draft. Then, a second translator will proof and edit the document, which is then followed by a consultation with the original translator to discuss and ensure its complete accuracy. Can We Talk? Inc. follows the exact same procedure for all document translations—whether the document consists of one page or 50.
Please contact us at 561-733-4368 or via email at:
cwtbiz@aol.com.